Bali Yoga Retreat and Vacation
May 25-June 1, 2014
Renew, Relax, Reflect as You escape to paradise for a blissful yoga journey on the beautiful tropical island of Bali. Set in lush tropical surroundings and led by experienced, charismatic loving teachers, Yoga Retreats Bali is excited to offer you a high-quality yoga retreat designed to enhance your practice and refresh your spirit. From the beginning to the very experienced student, you will create new friendships and build lifelong memories with other yoga enthusiasts as you take your practice and relaxation to new levels.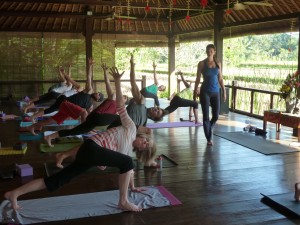 This one week retreat is led by elite yoga teacher Heidi Schubert, RYT-200, of Encinitas, California.  Based in the Yoga capital of the US, Heidi has been a yoga instructor for hundreds of people and has taught thousands of classes.  Heidi has also trained, taught and lived in Bali for over 6 months and knows the area like the back of her hand. She will ensure that you know all the local tricks and experience this magical island from an insiders perspective. (Why Bali? Check out Heidi's Blog Post HERE)
Heidi will be assisted by fellow friend and yoga instructor Brooke Tigh, RYT-200, as well as her fiancé Jason Shurtz, RYT-200.  Brooke and Heidi are close friends and together create a deeply educated but also very fun and light hearted approach to their classes. This teaching duo will pull from styles ranging from traditional Hatha, to Ashtanga, to Restorative yoga to ensure that any and all personal levels and practices are accommodated.  Jason will be giving adjustments to help guide individuals deeper into their postures. The great variety of classes are guaranteed to help you escape physically and mentally so you can focus on diving into the relaxation and beauty of your surroundings. To find out more about Heidi, Brooke, and Jason visit our Instructor's page.
Location: Bali is known across the world as "The Island of the Gods" because of its awe inspiring beauty and incredible natural energy.  Ubud is Bali's cultural center and one of the most popular yoga destinations in the world. It is here that you will be immersed in the traditional culture of the Balinese people while being surrounded by cascading rice terraces, thatched Balinese bungalows, and the most amazing, open, loving people you've ever met (learn more about Ubud, Bali HERE).
Our goal is to provide you with an unforgettable journey and help you discover new ways to take your practice, focus, and relaxation to new levels. We want you to experience Bali and everything it has to offer.  Each day will be filled with yoga classes, cultural activities, excursions, pampering massages and body treatments set within the illuminating culture of Bali.
Our One Week Retreat Includes the Following:
Transportation to and from the Denpasar, Bali International Airport/Ubud
7 nights of accommodation immersed in the rice paddies at the beautiful Ananda Cottages, Ubud
Breakfast daily (always with vegetarian options)
Welcome dinner with mouthwatering traditional Balinese dishes
Daily 2 hour yoga and meditation
1 full body traditional Balinese Massage at Bliss Spa
1 Day excursion to Dreamland Beach and Uluwatu including lunch and dinner
An Ayurvedic lunch prepared by Dr. Sujatha and her staff.
1 Class at the Yoga Barn and 1 class at Radiantly Alive
Good-bye dinner at the Lotus temple with cultural performance
Optional daily cultural activities
View tentative yoga retreat schedule and photos of yoga retreat activities HERE
We expect to fill up quickly so click HERE to book your spot in this amazing retreat from May 25-June 1 before its too late!
 (Go on, treat yourself to some pampering and yoga bliss…it also makes a perfect present for Christmas/Birthday/Mother's/Father's/ANY day, getaway!!)
Book with a friend and get an additional discount of $50 per person (not applicable for double occupancy rate)
You will be staying at the beautiful Ananda Cottages located in Ubud, a short 15 minute walk from the town's center. Here you will find the world famous Monkey Forest and Ubud Market! The Ananda Cottages property is a gorgeous retreat center including 3 private pools, shared villas, and a large yoga room overlooking the iconic picturesque landscape where you will be practicing daily.  To see pictures and more details on the Ananda Cottages visit the Accommodation page here.
Who you should attend this 7 day, 7 night retreat to paradise?
If you're a newcomer to the practice of yoga who want to learn from experts in a comfortable and supportive environment
If you're an experienced Yogi who wants to take their practice to new levels or explore new ideas
If you're a Yogi interested in developing or deepening your inner meditation practice to enhance your outer yoga practice
If you want to develop the foundation of a daily practice and a deeper understanding of your yoga
If you're seeking to cultivate an inner calm for a more balanced state of being
If you've dreamed of traveling to an exotic location that allows for complete immersion in all areas of your practice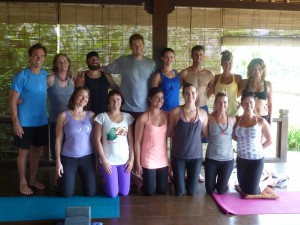 Book your spot NOW on a Bali Yoga Retreat from May 25-June 1, 2014 HERE before its too late! Go ahead, give yourself permission to detach from work, responsibility, "reality", Facebook

…and escape to join us in beautiful Bali! Book with a friend and get an additional discount of $50 per person (not applicable for double occupancy rate)
See our retreat prices HERE
*BONUS IDEA: Couple accommodations available! Bring your significant other for a romantic bonding experience that will help you grow together and create memories that are guaranteed to last a lifetime!
By the end of this retreat you will have a deeper awareness of your whole being, feel refreshed and invigorated with a deeper sense of calm within. So join us for an unforgettable journey of a lifetime where you will discover new ways to embrace and experience the art of yoga.
To learn more about what to expect with the weather, what to pack, and other information on Bali check out our ABOUT BALI tab to help you with all your travel needs!!
JUST ANNOUNCED: YogaRetreats-Bali.com has committed to donate 10% of retreat proceeds to a local bali charity dedicated to eliminating poverty on Bali. Last year we donated 1.2 million rupiah to the yayasan kasih peduli anak foundation to support impoverished children in Bali.