There is no lack of activities available for the tourist or regular visitor to Bali.  It's location and geography allow for a variety of physically exerting (or relaxing) choices.  These include hiking Campuan Ridge, cycling tours around Ubud, walking through town,  or taking a car to go hike the nearby Mount Batur.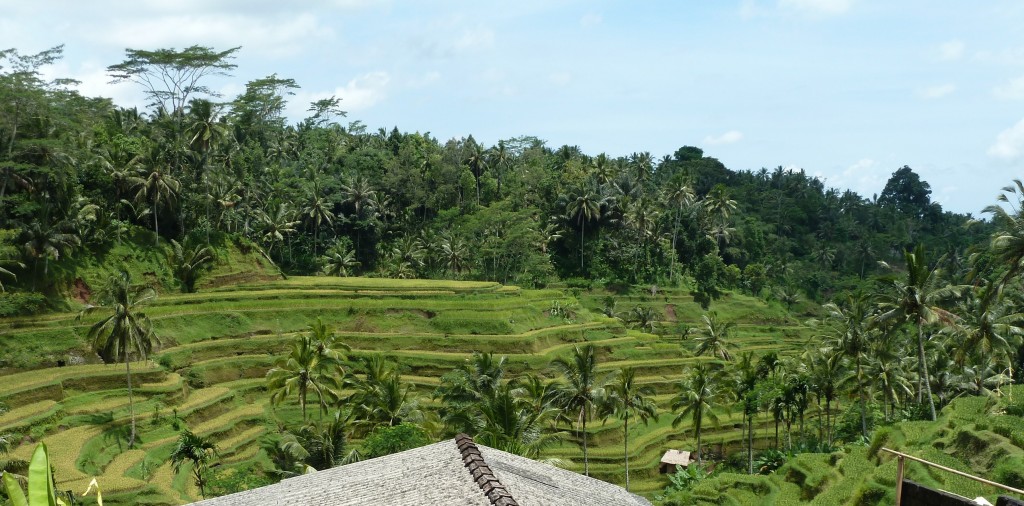 There are so many beautiful things to see in Ubud it is impossible to list them all.  What it is probably most famous for is the beautiful rice terraces just out of town that are extremely steep with hundreds of terraces along hillsides.  You can also see gorgeous temples and palaces simply walking down the street downtown, or exploring the outer areas of the city.  Another popular activity is going to see the traditional Balinese dances.  These are held almost every day of the week throughout Ubud and there are many different types of dance.  Lotus Café has a different performance every night and you can reserve tables just along the edge of the lotus pond to watch the dance at the adjacent temple.
As previously stated, Ubud is a haven for the travelling yogi.  Yoga studios and retreat centers can be found throughout the city and yoga is a popular activity among visitors.  The most popular center for doing yoga is called "The Yoga Barn" which is located on Jalan Hanoman downtown.  Here you can drop into a class for 120,000rp or buy class packages at discounted rates. A few other great studios are Radiantly Alive, located by Bali Buda, or Taksu, right in the center of town.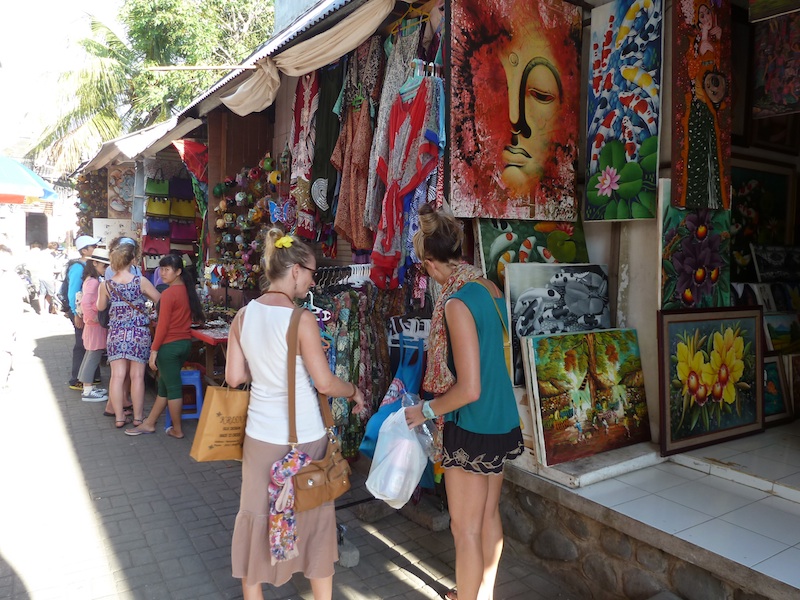 For the divine shopper within us all (maybe I speak only for the ladies) there are tons of shopping opportunities in Ubud.  Simply walking down any road will unveil shop after shop of beautiful handmade clothes, bags, decorations, etc, and it is hard not to stop and check out every one.  There is also the famous "market" located in the very center of town between Monkey Forest Road and Jalan Hanoman.  Here you can find lots of trinkets and souvenirs as well as clothes and food.  Remember to bargain!
Another famous destination in Ubud is the Famous Monkey Forest.  This is a a little monkey oasis with a grand temple set in the middle of Ubud.  Entry is only $5 and it's sure to be an amazing and comical experience! But be aware, the monkeys are sure to take things if you aren't careful, they'll even snatch the sunglasses right off your face!
Lastly I would highly recommend traveling to some local temples nearby.  The two most famous temples near Ubud are Gunung Kawi and Tirtha Empul in Tampak Siring.  Gunung Kawi is carved within a mountain and awe inspiring.  Tirtha Empul is the water purification temple where a fresh and very pure water spring brings water to a variety of pools.  Here you can do the water purification ceremony which takes you through a series of spouts, each blessing and cleansing you in a particular way.  It's incredibly beautiful