The number one option to get around Ubud is simply to walk.  Pretty much everything can be reached in 10-20 minutes walking time from one side to the other, and this is the simplist and easiest way.  You will constantly be hassled by taxi drivers asking if you need transport, and simply reply "jalan jalan" (I am walking) and keep on going.  You learn to ignore them.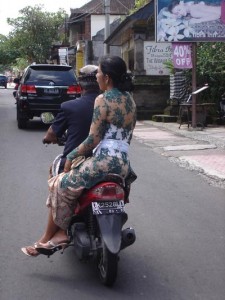 You can also rent a motorbike, which is a more expedient way to get from place to place.  The driving can be a little hectic, and traffic in the center of Ubud can be bad at times.  You can rent a motorbike for as little as  20,000rp a day, and they will provide you with a helmet if need be.   Just make sure you have an international drivers license, but there is not a problem with crooked cops here as the royal family makes them leave tourists alone.
If you want to go a little farther, don't want to rent a motorbike, and don't want to walk, then you can always get a taxi.  There are taxi's available everywhere and they will be happy to give you service.  Just remember that everything is a bargain system and you should definitely bargain your price.  You can also hop on the back of someone's motorbike for rp10,000, but some people aren't so comfortable with that idea.