Now for the best part about Ubud: the food.  There are hundreds of restaurants in throughout the city of Ubud, and it would be impossible for me to name them all.   I will give you a list of some of my favorite ones so you know where to start.  I will also give you a price range: cheap, medium, high, and expensive.  I would not eat at the cheap places right away until your stomach is used to Balinese food, and definitely never eat raw food or salads at these places, as they may not wash their food with purified water.  The medium and expensive lists are perfectly fine for raw foods.
Cheap Food (rp 10,000-40,000 per dish)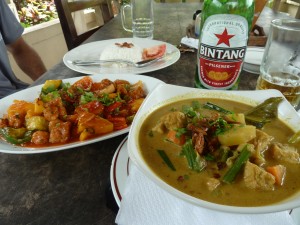 Made's Warung– GREAT local Balinese dishes and wonderful family owns this small warung. Located just north of Ubud center.  I HIGHLY recommend
LaLa & Lili– Good local Balinese restaurant, slightly more expensive then Made's Warung but located just near it.  Has a variety of menu items that are very good.
Yellow Flower– Really nice and cute little warung nestled into the side of a hill.  Very good traditional Balinese food and other dishes.  GREAT nasi campur and goring.  Also located north of Ubud off of Jalan Campuan. *A Retreat Favorite*
Mendez Warung– Owner and chef Mendez puts a unique twist on local Indonesian food for a delicious meal!  Served local sweet drinks before and meals are delicious and unique.  Located on Jalan Campuan * A Retreat Favorite *
Ryoshi– Japanese restaurant on Jalan Raya in Ubud serves good sushi and other Japanese dishes until midnight at rather low prices.
Middle Range (rp 30,000-60,000 per dish)
Bali Buda–  A Yogi's favorite, located on the south end of Ubud on Jalan Raya, this is a healthy restaurant with an amazing variety of dishes and sweets.  Everything is to die for, and they use organic greens from their own garden.  Also has a small store beneath for organic items and food.
Murni's Warung– Located near the bridge on Jalan Raya, this is a good restaurant with a variety of dishes and desserts, also great smoothies and juices.  Great view over the river.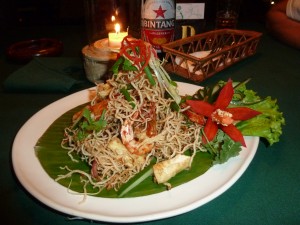 Element– A new restaurant in Penestanan. They have great burgers and delicious pasta dishes for reasonable prices. Eloquently descriptive menu items will help you choose!
Naughty Nuri's– A vegetarians worst nightmare, but great BBQ.  Located on the far north end of Ubud by Bintang supermarket, this is a GREAT BBQ restaurant with a variety of bbq items and more.  Known for their ribs, go for them.
Casa Luna– A little pricier then medium but not quite expensive.  Has really great desserts and coffees (you can get real espresso here!).  They have a variety of menu items, and are more westernized for sure.  Be sure to try an iced cappuccino. Right in town.
Kafe–  One of the most popular health food restaurants and yogi destinations, Kafe is delicious and located on Jalan Hanoman near the Yoga Shop.  The menu has a large variety of items, the mezza plate is to die for with a spread of Mediterranean dishes.  You can also get healthy smoothies and desserts.
Café Wayan– Just across from Cinta on Monkey Forest Road, this indoor/outdoor restaurant has small lotus ponds and coi fish throughout to create a great ambiance.  Menu has tons of options, but they aren't THAT great… pizza not one to choose here.
Bagus Pizza– Meaning "awesome" pizza and they mean it!  Great pizza joint located near the Yoga Barn on Jalan Hanoman.
Sari Organik– Pretty amazing restaurant located up amongst serene rice fields, it's a slight hike to get here.  They have healthy organic dishes in an Indonesian and western style.  Great juices and smoothies too.  I would highly recommend this restaurant.
Soma– On a small alley called Jalan Gootama off of Dewi Sita, this vegetarian and raw restaurant has amazing options for a healthy treat!
Juice Ja– Fresh made juices, smoothies, milkshakes, etc. Great to cool down!
Black Beach– Yummy Italian pizzas with a Balinese twist. Great view from the upper deck and close to all the shops on Hanoman Street.
Alchemy– Amazing holistic café. 100% raw vegan cafe & juice bar, organic health food store, and holistic clinic.  It was established as a place of transformation in 2011 by a group of conscious creatives with a passion for live food, green juice, and raw chocolate! Delicious, and oh so healthy.
High Range (rp 60,000-100,000 per dish)
Cafe Lotus– Located just next to the temple in downtown Ubud, this restaurant overlooks the beautiful lotus pond.  It has a variety of dishes, mostly local Indonesian but with a twist.  Very delicious and large portions, the beer is very expensive here!
Batan Waru– Same owners of Cinta and Siam Sally, this is an upscale restaurant located on Dewi Sita.  It has really fabulous appetizers and a more upscale version of local Indonesian.  VERY good desserts!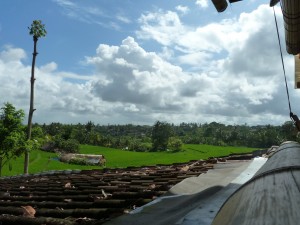 Cinta–  A great upscale restaurant with a mojito happy hour, this is a more westernized menu with a variety of cuisines.  Located on Monkey Forest Road, its worth it to come get some cheap and delicious mojitos and great appetizers in a romantic setting. * A Retreat Favorite *
Siam Sally– An upscale thai restaurant with really delicious thai food.  The curries, noodles, and vegetables are all amazing here, and they even have some very good desserts! Located by the yoga barn on Jalan Hanoman
Clear Café– Another healthy café with a more Westernized menu.  Delicious healthy options in a beautiful and clean setting.  In downtown Ubud. *Note this restaurant recently burned down and is in the process of being rebuilt*
Tropical– A more touristy restaurant located in downtown Ubud right in the heart of the action.  You can pick your seafood fresh and have it made for you.  Variety of options, but not so traditional and unique.
Jazz Café–  Swanky little restaurant that has live music and a cool atmosphere.  Really nice menu with a lot of items in more of a Mediterranean style.  Come here on weekends for entertainment and great food.
The Elephant– An easy walk from Ananda, this high class vegetarian restaurant is delicious with a beautiful view of the temple and valley. Full bar as well!
Giardino– Owned by the same women as three monkeys, this Italian restaurant is tucked back amongst ponds and a romantic setting. Delicious, traditional Italian food and drinks with exceptional service.
Tutmaks– Really delicious food, a good variety and they have good prices for the quality that you get. Good Bakery as well
Expensive (rp 90,000+ per dish)
Indus: Located at the north end of Ubud by Bintang supermarket, this is a pretty fancy and pricey restaurant.  They have salsa dancing and great cocktails and really delicious food. *Very close to Ananda Cottages, A Retreat Favorite!*
Terazo:  Off of Jalan Raya to the north/east, this is a fancy and very expensive restaurant that is extremely westernized and you will pay about the same as what you would at a fancy American restaurant here.  Food will be amazing, but you will pay for it.
Mozaic:  This is this crème of the crop cuisine in Ubud and the most expensive you will find. Run by Franco-American Chef Chris Salans, it offers very pleasant out-door and in-door seating.  You can choose one of the set menus, starting from Rp.550.000++ to Rp.1.500.000++ per person per set menu. If you prefer to bring your own wine, they charge Rp.250.000++ corkage fee per bottle. On the well-chosen wine list you find many selection of open wines, and bottles start from around Rp.500.000++ per bottle.
Bridges Restaurant–  I haven't eaten here but I have heard it is delicious. They have a great happy hour with good and well priced, high quality wines you can drink while looking over the river. Gourmet food with cheese boards and beautifully created dishes.