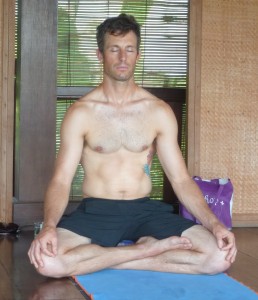 Jason Shurtz is Heidi's fiance as well as an adventure addict! An ex-pro snowboarder who was at one time ranked 38th in the world for half-pipe, he is a true adrenaline junkie.
Shortly after a horrendous skateboarding injury that ended his snowboarding career in 1998, he moved back to his family's original home town of Encinitas, CA. In the return to his unkown So-Cal roots, Jason has found passion in all things adventurous, especially surfing. Today he is in the water any time the surf is good, and has travelled the world chasing the best waves possible (think endless summer).  These hunts have led him up and down the California coast, to Florida, Peru, Mexico, Costa Rica, Hawaii, Baja and of course Indonesia and BALI!
Jason was with Heidi during her prolonged stay and yoga teacher training in Ubud, Bali in 2010 and again in 2011.  Along with his surfing-gypsie ways, he also has a deep passion for yoga which he found through keeping his body in prime shape for his extreme-sport hobbies.  He recently completed an RYT-200 training with Gerhard E. Gessner, E RYT-500 at Prana Yoga Center in La Jolla, CA.  Since then he has practiced teaching and adjusting in Heidi's classes and on his own.  He is an extremely talented adjuster as he knows the body very well, and he looks forward to being able to be more hands on in yoga classes this year on our Yoga Retreat.
While on Bali Jason prefers to spend his days exploring the coast, searching for the best waves.  In doing so, he has logged countless hours and days in many different areas, but it's the world-class waves on the Bukit Peninsula, specifically the famous Uluwatu, that continue to be his favorite.  He will be guiding the retreat during our trip down to Dreamland Beach and Uluwatu along with Heidi and Brooke (surfing of course is optional) and will be in charge of taking guests out in the water if anyone wants to jump in! (side note: surfing at Ulu's or any break on Bali will be dependent on the skill level of each individual surfer and the size of the surf that day).
Surfing or not, Uluwatu is a magical place on Bali and will be a memorable trip even if you never touch a board. With Jason leading the way with his continuous smile and fun, upbeat attitude, we will explore the coast of Bali through the eyes of a person who truly sees the best in everything around him.  Depending on the group consensus, he might take us to see the monkeys at the Kecak Fire Dance show at the Uluwatu temple which hangs on the cliffside above the famous Indian Ocean surf break.
Ladies- feel free to bring your husbands/boyfriends/significant others along on this retreat as they can hang out with this guy and have a blast!!
200 Hour RYT Training- Prana Yoga Center, La Jolla – June 2013