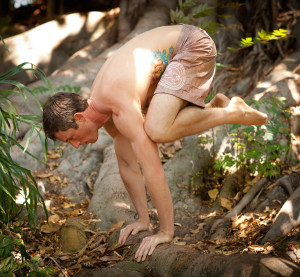 Jason Shurtz, RYT-200 is Heidi's husband, assistant instructor, and official adventure junkie for Yoga Retreats Bali.
Jason was with Heidi during her prolonged stay and yoga teacher training in Ubud, Bali in 2010, and has returned to Bali every year with Heidi since.  Along with his surfing-gypsie ways, he also has a deep passion for yoga which he found through trying to keeping his body in prime shape for his wild-sport hobbies.  He completed his RYT-200 training with Gerhard E. Gessner at Prana Yoga Center, La Jolla in 2013.  Jason is a talented teacher in his own right who knows the body very well and looks forward to offering people a more hands on experience in a yoga class.
I think most yogis appreciate a good adjustment, I know I do! But unlike many group classes where you'll be lucky if you get one or two adjustments through the whole sequence, we can give enough attention to our participants that nearly everyone can be adjusted in each pose
Jason loves yoga, but could always prefer to spend his days exploring the coasts of Bali (or anywhere with warm tropical surf). In doing so, he has logged countless hours in many different areas, but it's the world-class waves on the Bukit Peninsula and of Uluwatu that continue to be a favorite while on Bali.  He is our main guide during the retreat for any trips to beach areas like Padang Padang (where they filmed the final scenes in the cult classic movie Eat, Pray, Love with Julia Roberts), Uluwatu, Bingin, Dreamland and more.
Surfing or not, the Bukit peninsula, cliffs of Uluwatu and other neighboring beaches are an especially magical place on Bali, and is guaranteed to be a memorable part of the trip even if you never touch a board.
With Jason leading the way with his continuous smile and fun upbeat attitude, we will explore the coast of Bali through the eyes of a person who truly sees the best in everything around him. Ladies- feel free to bring your buddies/husbands/boyfriends/significant others along on this retreat as they can hang out with this guy and have a blast!! 🙂
200 Hour RYT Training– Prana Yoga Center, La Jolla – June 2013
Ashtanga Yoga Confluence: San Diego, CA – March 2012
CPR/AED Certified