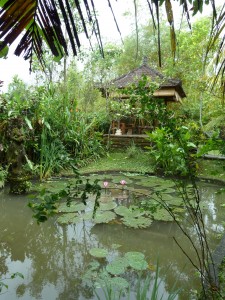 My name is Heidi Shurtz, lead yoga instructor and organizer for our yoga retreats in Ubud, Bali in July 2015. I started planning these yoga retreats because of my experience and passion for the beautiful Island of the Gods: Bali.  Although the usual response I get from people when I tell them I hold yoga retreats in Bali is "Wow! I've always wanted to go to Bali! You are so lucky!", I sometimes get the question, "Why do you go all the way to Bali?"
Yes, Bali is quite a long trip from most places in the world, especially the United States where Jason and I live.  So, I've decided to answer this question in order to explain to you why Bali is worth it.
The short answer: Bali has an almost palpable magic surrounding it. There is an innate ability of this incredible island to present you with exactly what you need in your life, in the moments when you need them the most. This could be the experience of pure blissful relaxation, or maybe it's the time needed to reflect or refocus on other neglected areas of your life. Whatever it is, it's waiting there for each of us, each time we visit and revisit.
The even shorter answer: Bali is simply unforgettable.
My story starts a few years back when I decided to do my 200 hour, yoga teacher training on Bali in the fall of 2010.  The training itself was 6 weeks, but I planned some extra time before and after to travel around and really explore the island.  I think my total "planned" time in Bali started around 2 months.
To be honest, I was really nervous the first time I travelled there.  I had really never been to a third world country other then Mexico so I wasn't quite sure what to expect.  Would the poverty be overwhelming? Would the bugs eat me alive? Would the heat and humidity be unbearable? Was it safe? I really had no idea….
Now I've travelled a fair bit; Europe, Caribbean, Mexico, Japan, Canada, good portions of the US and Hawaii, but NOTHING I had experienced before was anything like Bali.
The culture and religion is Hindu (appropriate since this is the culture where yoga originated) which genuinely helps creates an ideal atmosphere to immerse yourself in a yoga (training, retreat, all of the above). The climate and weather are actually perfect; warm and humid but not to the point of being uncomfortable.
In the heart of the island is Ubud, an absolutely beautiful place that surrounds you with tropical greenery, flowers, and rice paddies from all sides.  But honestly, the best part about Bali to me, is the people.  Its hard to explain and understand this completely until you go there, but the people in Bali are truly incredible.  As an American, it was nice to travel to a foreign country without feeling like you're being discriminated against because of your government or by being perceived as "a rich American". In Bali people are ALWAYS smiling, genuinely happy that you are there, and extremely content in their very humble, simple lives. I think they might have the biggest hearts of any other culture of people on the planet :).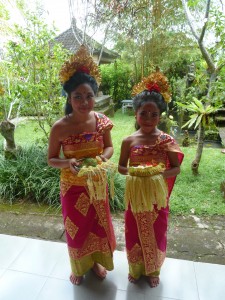 Despite extending our stay, the time went by SO fast.  As the saying goes, time flies when you're having fun! In fact, Jason and I had such an amazing trip that we seriously pondered the possibility of buying land and building a house with a little yoga studio in it. Unfortunately, it turns out that the Indonesian government has made it extremely difficult for foreigners to operate a business there full time, but we can moonlight as locals by hosting retreats, a dream come true!
After an extended stay of nearly three months, I remember crying on the plane when I left; so sad to leave a place that really felt like a home away from home.  We decided right then than there that we had to go back. Very fortunately, I had an opportunity to return the following year to teach on the same training I had taken the year before to get my certification. Obviously I was SO excited and returned in the fall of 2011, scheduled to stay for just under another two months.
When I arrived I felt a sense of relief being back on Bali again. Surrounded by the people I've come to love, I couldn't stop smiling. I saw people I had created relationships with from the previous year who remembered me like I was there yesterday. I couldn't wait for the deep massages, mouthwatering meals, beautiful sunsets, sunny days and warm nights. I even looked forward to the bath water, warm, rain showers that would surely come. And of course the main reason, I really looked forward to being able to practice yoga again in the most beautiful landscape and culture that I've still ever experienced.
When I left for the second time, I didn't know when I would be coming back (again crying…). I promised myself that I would come back to Bali as often as I could and at some point I would hold a yoga retreat there.
Just to make sure, before I planned everything for this retreat and made the financial commitment to make our dream a reality, Jason and I even went to Costa Rica for two weeks, hoping to find a similar place, climate, and culture that was closer to home. The whole time we were in Costa Rica I was disappointed that I wasn't back in Bali. As fun as Costa Rica was, there just isn't the culture, the art, the food, the vibe, the PEOPLE.
Nothing has come close to comparing with Bali.  NOTHING.
That is why that after much deliberation, many discussions with my students and lots of traveling to explore other options, we took the first plunge in 2013 and have continued to bring people to this magical place.  Our most recent retreat is planned for July 12-18, 2015.  All of our students agree, it's during a great time for a yoga retreat since it is after tax season (few!), around mother's day (great pampering gift for moms), just before the high travel season in Bali, and at a time when the weather will be great .  You'll notice our retreat prices are far below those of other retreats being held in Bali.  That's because we genuinely want to make it easy for you to join us on this amazing island and share the experiences of what yoga is all about.  We've spent enough time here now that I personally consider myself somewhat of a "local" in Ubud, and is exactly the feeling we want to give YOU when you experience this incredible island for yourself.
Lastly, all I can say again is that BALI IS WORTH THE EFFORT TO GET THERE.  If you're even considering this life changing adventure, I can personally promise that you will NOT be disappointed. And when you do join us, I can also promise that you will leave with all the same rich experiences and memories from one of the most amazing places in the world. Come fall in love with this magical place too…
I hope to see YOU in Bali! 🙂
Love and Light,
To see more details about our Yoga Retreats coming July, 2015 in Ubud, Bali click HERE
To see a tentative retreat schedule click HERE
For retreat reservations click HERE
Book your spot in our 2015 yoga retreat by January to receive an Early Bird Discount! Also- book with a group of 3+ and receive an ADDITIONAL discount of $50 off per person! *not applicable to couples rate.
JUST ANNOUNCED: YogaRetreats-Bali.com has committed to donate 10% of retreat proceeds to a local bali charity dedicated to eliminating poverty on Bali.