January: the start of a new year, new beginnings, and new opportunities! It's also the month that follows the crazy holiday season starting at Thanksgiving and ending at New Years Day.  It's not news to many people that the 5-6 week period that we consider "the holidays" tend to drive us all a little, well… crazy. Why wouldn't it? Between the cooking of meals for large family reunions, crowds and lines in stores, and buying of endless gifts, the holidays can sometimes be enough to really send us into a stress spiral.  The truth is we usually spend so much of our energy focusing on others that we tend to forget about taking care of ourselves.  How can one give to others when their personal stores of love, energy and enthusiasm are depleted?
I believe it's this depletion that causes me to hear a lot of "Man, I need a vacation from my holiday vacation!" around this time of year from my students and clients.  Something about lying on a beach with the sound of the ocean and a fruity cocktail in hand seems to really hit the spot to our psyches [or insert your fantasy vacation here]. Sound familiar? Don't worry, you're not the only one.  It's no wonder the search term "vacations" is one of the highest searched term in January.  The increased stress and anxiety we experience through the holidays certainly warrants a wind down period, and what better way to wind down than with a relaxing vacation in paradise?
Personally, I find the best way to renew my spirit comes from stepping onto my yoga mat and disconnecting a little bit.  It seems sort of ironic that I'm suggesting "disconnecting" while you're probably reading this on your phone, computer, tablet or other e-device right now! But it's true. When I take the time to turn inward, take time for myself, and return to the things that are really important in my life, I feel I have more energy, time and love to give to others. Just like my good little Prius, sometimes I have to step on the brakes to recharge the batteries and move forward!
As I've mentioned many times, one of the reasons I travel to Bali each year is because I feel like Bali is the place where I can recharge and really relax.  In other words, it's my personal paradise.  It may be because I've spent so much time there and it feels a little like a home away from home to me, but I don't think that's really it.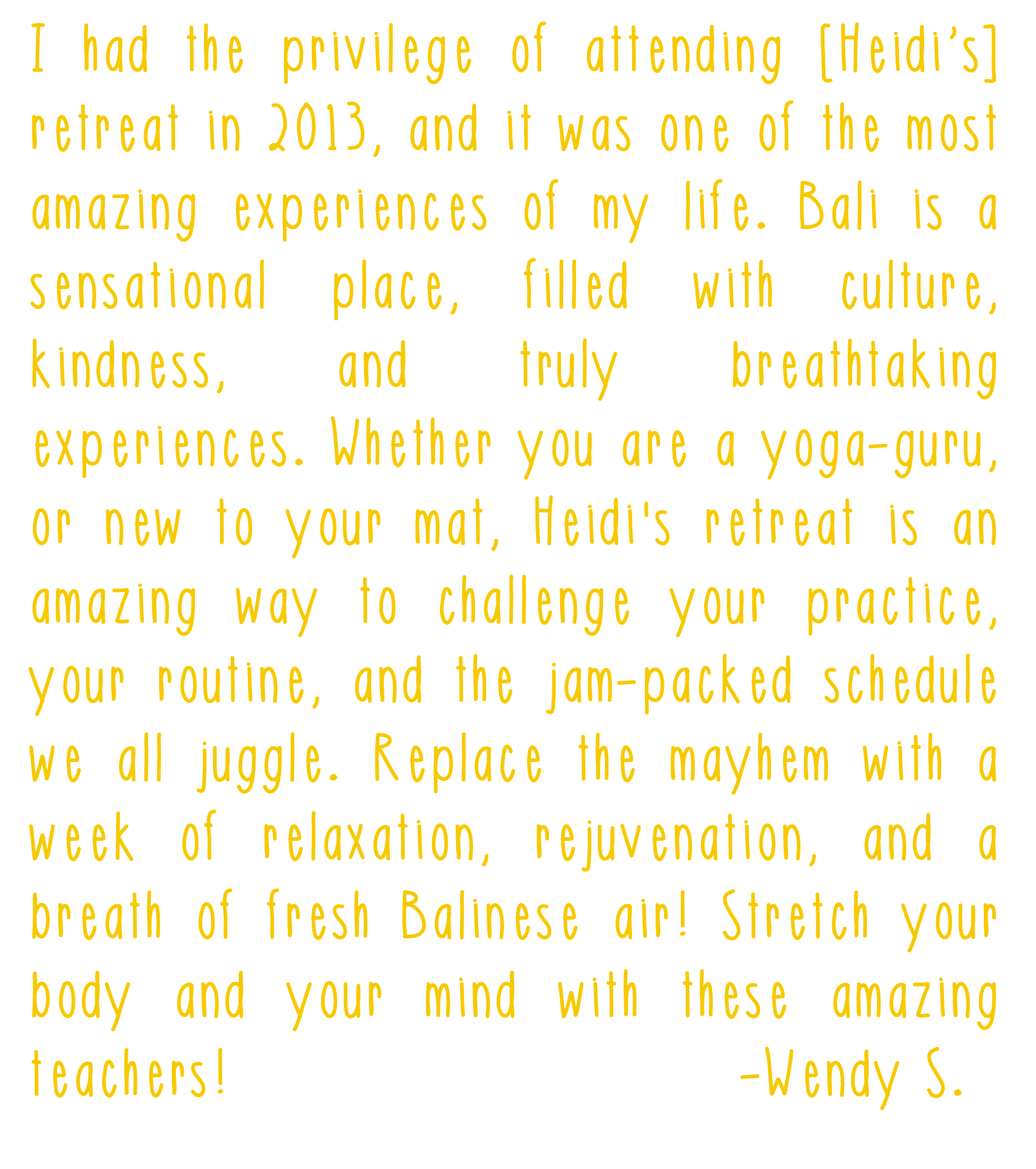 When I tell people that I take groups to Bali each year for yoga retreats I often get the response, "that's so amazing! I've always dreamed of going to Bali, I've heard its such a magical place!" Now, that's not a notion that I put into their heads.  This is something that people have already associated with Bali.  I believe one of the reasons this is true is because of the mystical quality and energy Bali has and clearly communicates to her visitors.  People travel here and can truly feel the positive energy.  But where does that energy come from?
Bali is a place that takes us back to our roots, to a more primal state of living.  You travel there knowing that you may not have wifi available everywhere, you might not have cell service, but thats ok, because you get to DISCONNECT and experience beauty. You get to return to a more simple lifestyle, even if just for a week or two, where you can focus on taking care of yourself, explore nature and culture, and be present.  Oh ya, and you'll get to have a lot of fun along the way!  Although Bali is getting more crowded and busy every year, you can still see this connection to source through the smiles of her people, the culture, and the beauty in everything from a simple offering to extravagant rice terraces.
Our yoga retreats in Bali are meant to offer you a way to experience Bali where the work of planning and coordinating is taken out of the equation.  My goal is truly to make it easier for people to experience the beauty that Bali has to offer.  The first time I left Bali after living there for almost 3 months in 2010 I promised myself I would find a way to come back and show people this incredibly inspiring place.  Since then I have returned 3 times and led 2 retreat groups.  Each person I've brought to Bali says the same thing that I said to myself years ago, "I need to find a way to come back here." Why? Because Bali has a way of giving you just want you need when you are there.  It fills your spirit allows you to give back to yourself.  It allows you to step on the brakes and recharge your batteries.
If this is something that speaks to you then don't hold yourself back! Allow yourself to renew, relax, and have some fun, and give yourself a gift for once!  We would love to have you join us for our retreat this year, please CONTACT US if you are interested at all in visiting Bali! Our retreat is from July 12-18, 2015 at the beautiful Ananda Cottages in Ubud.