What will your yoga retreat experience be like? Below is a tentative schedule of what to expect during our one week yoga retreat holiday/vacation this October 15-21, 2017.  Keep in mind this is a very tentative schedule as things can shift and change due to availability and group dynamic, however all of these events will be included in the retreat.  Please note: all activities are completely optional and are simply available for your enjoyment. Space is very limited so please CONTACT US to book your spot today before someone else claims it!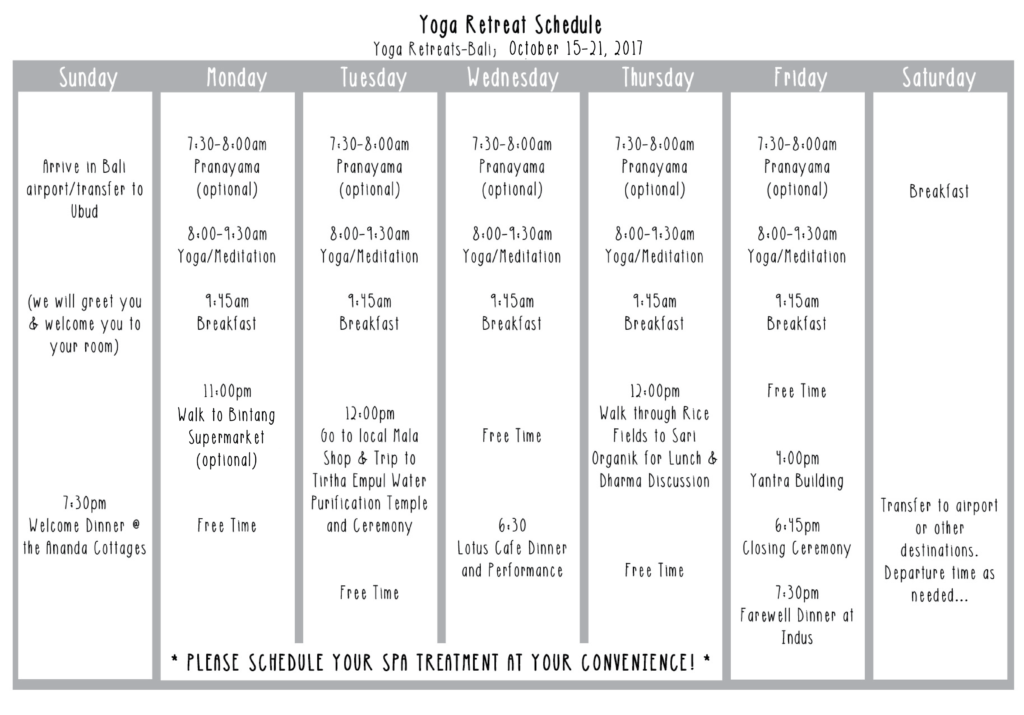 What can you expect a typical day to be like during our 1 week, blissful yoga retreat in Ubud, Bali
– 7:00am: Wake up and enjoy light snacks, coffee and tea in the Ananda Restaurant.  It's not hard to wake up early in Bali.  Because of the time change you will likely wake up early without an alarm, feeling refreshed and energized! A great way to start the day!
– 7:30am: Meet in the yoga studio overlooking tropical rice fields.  We will guide you through a light pranayama practice to help clear your head before yoga and meditation.  This is always optional., but we recommend joining us!
– 8:00am: Begin our yoga (asana) practice.  This 75-90 minute practice will focus on different intentions each day from helping release your joints after the long flight to aligning the chakras so you feel energetically at your best.  We complete our practice with a short meditation, which always seems to be a retreat favorite!
– 9:45am: We'll walk to breakfast together and enjoy the delicious buffet of traditional and non traditional Balinese dishes, fresh tropical fruits, and coffee, tea and juices.  Meet with new retreat friends and set a loose plan for the day!
– Afternoon: We have various daily excursions planned for your enjoyment.  From exploring the local, hidden, and best shops and restaurants to visiting the monkey forest, we'll show you Ubud like no one else can!
– Evening: Most of the evenings we give you time to explore Bali and enjoy the many delicious restaurants throughout Ubud.  Other nights we have exciting dinners planned with cultural events that are a surprise!
View Photos from our past retreats!
If you'd like to join us and be a part of this incredibly beautiful yoga retreat please CONTACT US to make your reservation today! Spaces will fill up quickly and are limited to ensure the best retreat experience.  Register by May 31, 2017 and up to an extra $150 off!