The meaning of Ananda translates to extreme happiness, one of the highest states of being.  During our one week yoga retreat we will be staying in the beautiful Ananda Cottages right in the heart of Ubud, Bali.  Ananda is located in the cool tranquil hills just 20 minutes walk from the village centre of Ubud, and offers lovely rural views surrounded by lush, green, fertile rice paddies. Bali's natural beauty remains a part of Ananda's grounds.
See a gallery of more pictures of the Ananda Cottages HERE
Superior Rooms at Ananda
In each cottage, the Balinese architecture and décor immerses you in the true Balinese style, while all the modern conveniences expected by the international traveller are here. All rooms are air-conditioned and have exotic garden bathrooms, conveying the essence of the tropics. The cottages are nestled amongst traditional rice fields that rotate throughout the year.  You will have access to 3 different pools to cool off and enjoy during your stay throughout the retreat.
Ananda also has a beautiful yoga room that overlooks the surrounding picturesque landscape of rice terraces and lush greenery.  You can enjoy your yoga practice while enjoying the serene Balinese landscape and fully escaping to this tropical paradise.  Ananda Cottages has partnered with Bliss Spa to provide a number of head to toe body treatments including Balinese massage, tropical fruit facials, manicures and pedicures.  If you would like to pamper yourself with more then your included traditional Balinese massage during the retreat you are welcome to come here in your free time and enjoy lavishing spa treatments at an affordable price.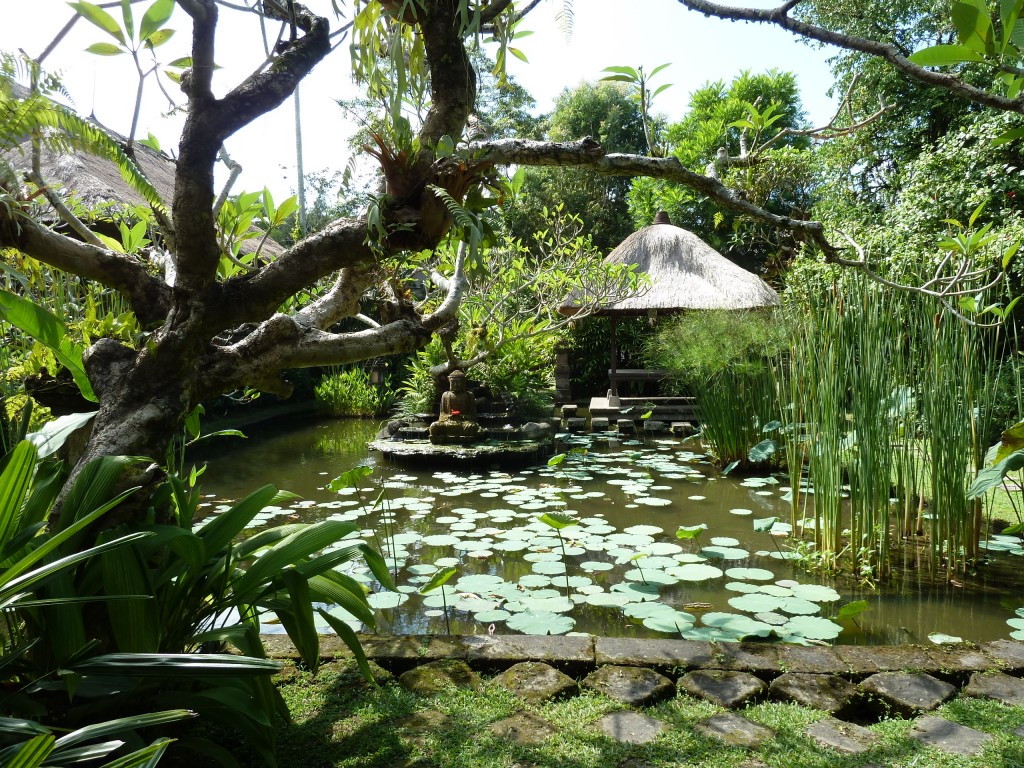 Retreat to Ubud
Ubud is the artistic and cultural heart of Bali. There are many painters, dancers, musicians and sculptors. Three art museums have both traditional and modern paintings and sculpture on display. The Ubud market is a favorite with a vast array of produce and souvenirs. The nearby monkey forest has a temple in the midst of a jungle with many mischievous monkeys.  The restaurants of Ubud are famous for their delicious food consisting of Balinese cuisine combined with contemporary culinary techniques.  You couldn't ask for a better place to come to practice yoga, vacation, and fully relax and enjoy yourself!
Book your spot in our 2017 yoga retreat today!! Allow yourself to escape, relax, and enjoy a full week of yoga, pampering, culture, and life changing experiences here at the Ananda Cottages in Ubud, Bali! SIGN UP FOR YOUR SPOT TODAY, before it's too late! *hurry! limited space available!
View more information on Rooms for the October 15-21, 2017 yoga retreat HERE