Yoga Room
We will be spending a lot of time here!! This beautiful space will be used for meditation, pranayama, and asana during our yoga practice daily throughout the yoga retreat.  Its idyllic and peaceful setting will help you to detach from reality and fully immerse yourself into your practice.
Restaurant
The open-air restaurant at Ananda Cottages is open throughout the day serving traditional Balinese as well as European cuisine.  You will be eating breakfast of your choice daily here during the retreat.  Tables are immersed in the tropical landscape of Bali.  Hot and cold drinks as well as room service are always available at your service.
Bliss Spa at Ananda
Ananda Cottages in Ubud has partnered with Bliss Spa to provide you with a supreme experience of relaxation, pampering, and indulgence.  Spa treatments such as full body massage, traditional shiro-dara ayurvedic treatments, manicures, pedicures, lurlur scrubs, and much more are available for your to book as an addition to your two included spa treatments while at the yoga retreat.  Relax, let go, and enjoy!
Pools
There are three pools located throughout the Ananda property for you to cool off in or relax by at your pleasure throughout the yoga retreat.  They are private to people at Ananda and you will find peace, relaxation, and privacy during an afternoon swim or sun bathe.
View more pictures of the Ananda Cottages in our Gallery and read more about the Ananda Cottages and retreat location HERE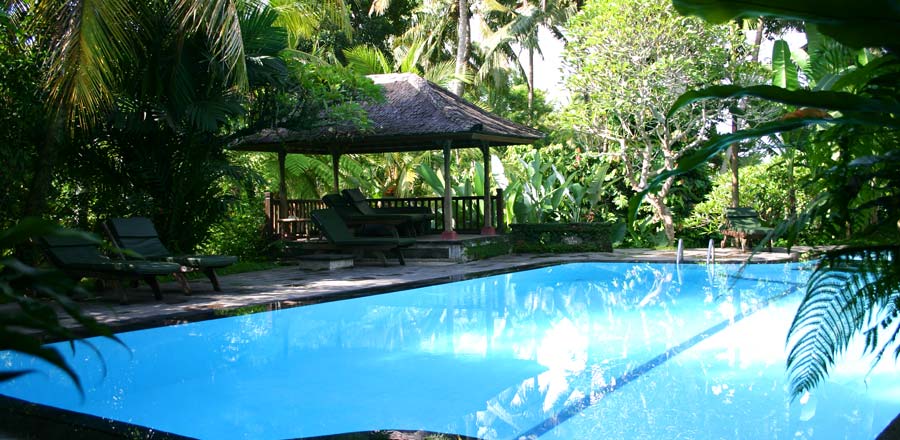 Does this all look amazing to you? Then book your space in our yoga retreat this October 15-21, 2017! BOOK HERE and get the early bird discount before May 31!
See everything included in our one week, relaxing yoga retreat HERE